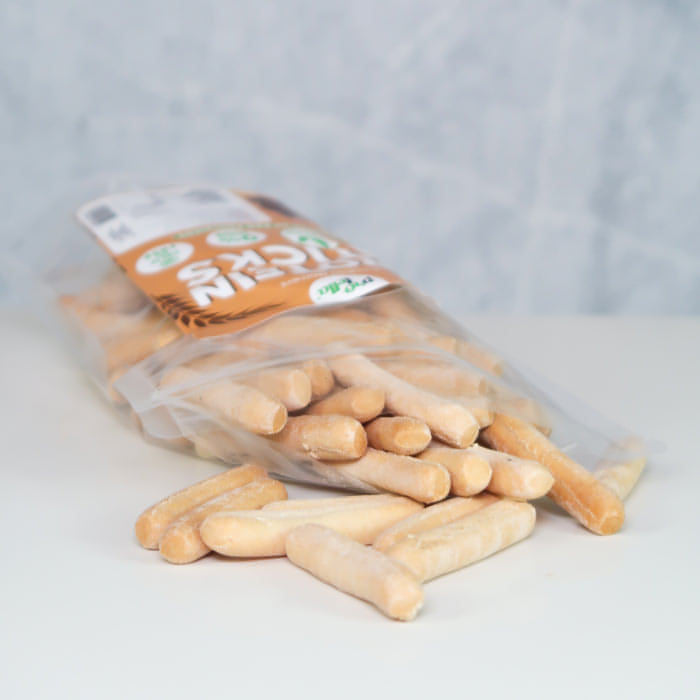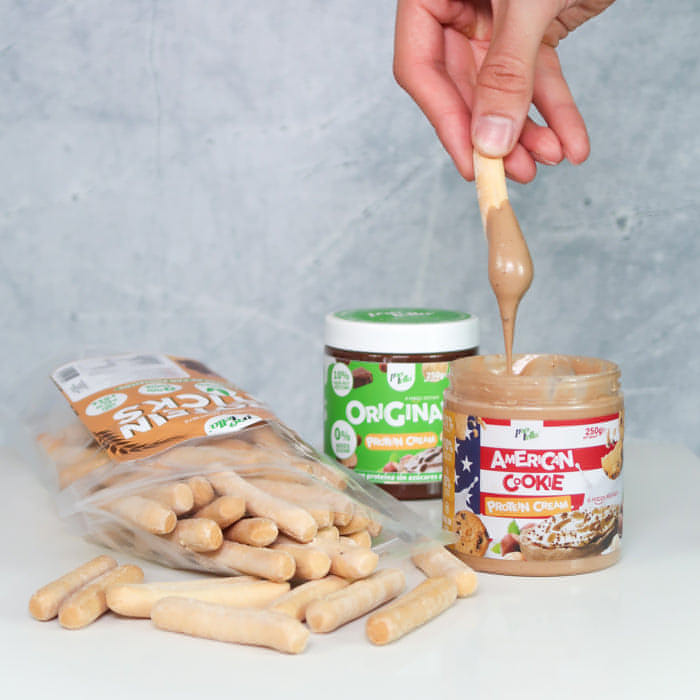 Protein Sticks 180g

€2,50
📦 BUY NOW AND RECEIVE IT IN 2-5 DAYS
Protein Sticks are the perfect snack for those looking for a healthy, protein-rich alternative.
These breadsticks are made with high quality ingredients, no added sugars or palm oil, and are completely vegan.
One of the highlights of Protein Sticks is their protein content. With 11% protein, these snacks can effectively contribute to daily protein intake, essential for overall health and especially beneficial for those who lead an active lifestyle.
Protein Sticks are free of added sugars, making them a preferred choice for health-conscious consumers looking to limit their sugar intake. This aspect makes them ideal for those looking to maintain a balanced diet, without sacrificing the taste and satisfaction of a good snack.
In addition, Protein Sticks are a 100% vegan product. This means they are made without any animal products, making them suitable for those following a vegan or vegetarian diet, or simply for those looking to reduce their consumption of animal products.
✅ Protein Sticks, with 11% protein, support your muscle health, keep you satiated and help control your weight.
✅ With no added sugars, these breadsticks can be part of a balanced diet, helping you maintain a healthy sugar level.
✅ If you follow a vegan lifestyle or are trying to reduce your consumption of animal products, these snacks are a perfect choice for you.
✅ Protein Sticks are easy to carry with you, making protein consumption throughout the day easier.
✅ Healthy alternative that can satisfy your cravings without compromising your health and wellness goals.
✅ Easy to digest for some people, and less likely to cause digestive discomfort associated with foods high in unhealthy sugars and fats.
Información Nutricional
Cómo Disfrutarlos
Shipping in 2 to 5 days
Shipping takes between 2 to 5 days from when the order leaves our warehouse.
Real time monitoring
Once you make the purchase, we will send you an email with the information of your order and the tracking number.
Customer Support
Do you have any doubt? Write to us at online@protella.com and we will give you an answer in less than 24 hours.
Productos Excelentes
Me encanta todo lo que cojo de Protella.
Ideales
Ideales para untar con cualquier tipo de crema
Riquisimos
Están muy buenos, el sabor es espectacular y sacian bastante.