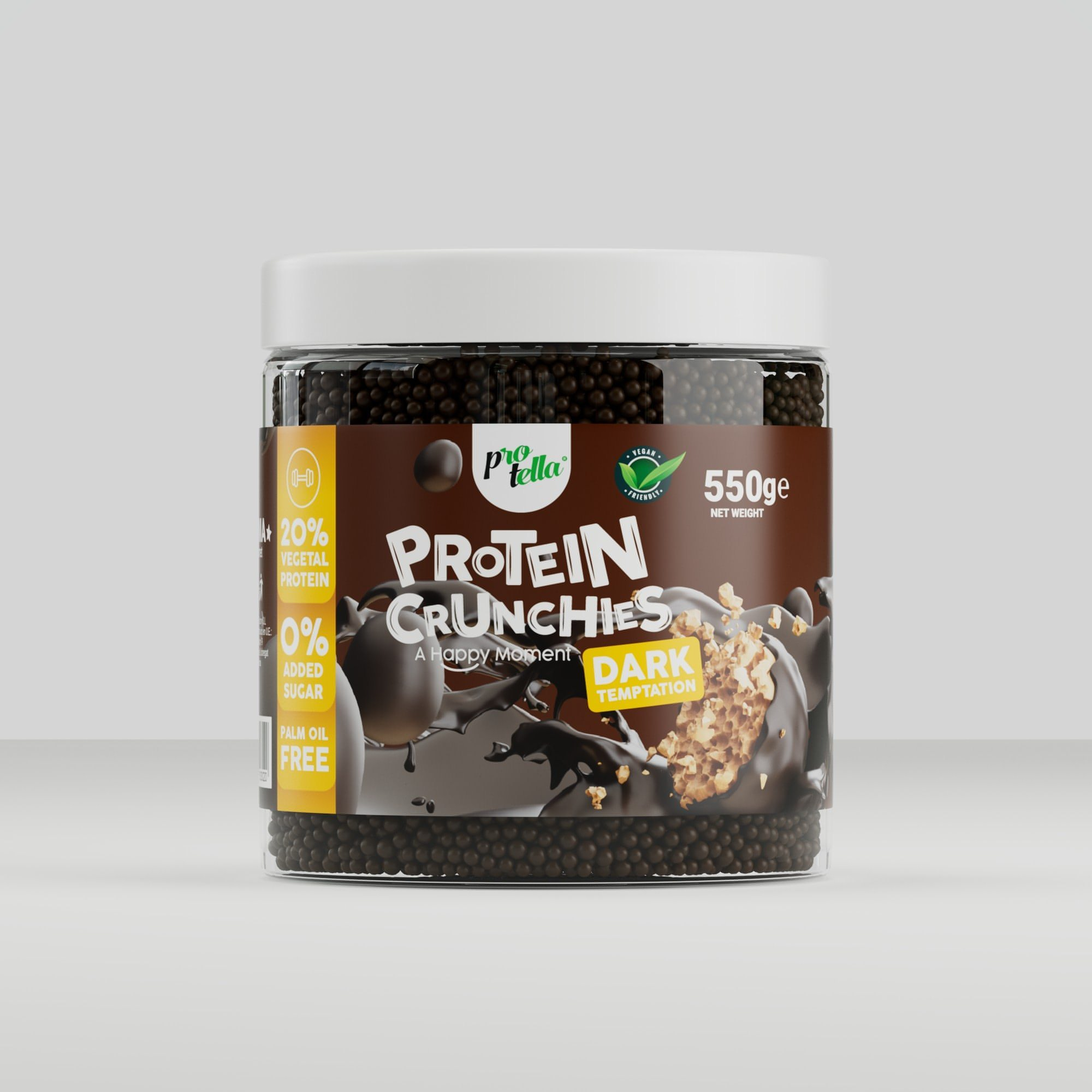 Protein Crunchies Dark Temptation 550g

€14,95
📦 BUY NOW AND RECEIVE IT IN 2-5 DAYS
Dark Temptation Crunchies are delicious and nutritious topping balls, composed of pea protein and rice. They are coated with tasty dark chocolate that adds indulgent temptation to any meal. With an impressive 20% vegetable protein content, these toppings are an ideal way to add an extra dose of nutrients to your dishes.
With no added sugars or palm oil, Dark Temptation Crunchies are a healthy choice that doesn't compromise on taste, adding a crunchy, chocolatey touch to your desserts, smoothies, cereals or any other dish you want to enhance.
✅ Being made with pea and rice protein, these crunchies are a source of high quality protein. Protein is essential for muscle tissue repair and growth, especially after exercise.
✅ Plus, protein helps keep you satiated, which can be helpful for weight management.
✅ Omega-3s are essential fatty acids known for their role in heart health. It will also help with your brain health and normal immune system function.
✅ Crunchies contain B vitamins and folic acid. These are important for energy metabolism and brain function.
✅ Minerals such as phosphorus, iron, potassium and calcium are crucial for various bodily functions. Phosphorus and calcium are necessary for bone health, iron helps transport oxygen in the blood, and potassium contributes to fluid balance and muscle and nerve function.
✅ With no added sugars, this will help you maintain stable blood sugar levels and contribute to better dental health.
✅ Eliminating palm oil can be beneficial from an environmental standpoint, as its production is associated with deforestation and loss of wildlife habitat.
Información Nutricional
Cómo Disfrutarlos
Shipping in 2 to 5 days
Shipping takes between 2 to 5 days from when the order leaves our warehouse.
Real time monitoring
Once you make the purchase, we will send you an email with the information of your order and the tracking number.
Customer Support
Do you have any doubt? Write to us at online@protella.com and we will give you an answer in less than 24 hours.
Sabrosos
Ojo que son adictivos....!!!!
Snack rico
Es un snack de chocolate saludable y delicioso que no puedo dejar de comer. Es un vicioooo jaajajja
Protein Crunchies Dark Temptation 550gr
Increíble, todo un vicio
Muy buenos pero enganchan. Los uso en yogur, helado, granola ... Una pasada!!!!