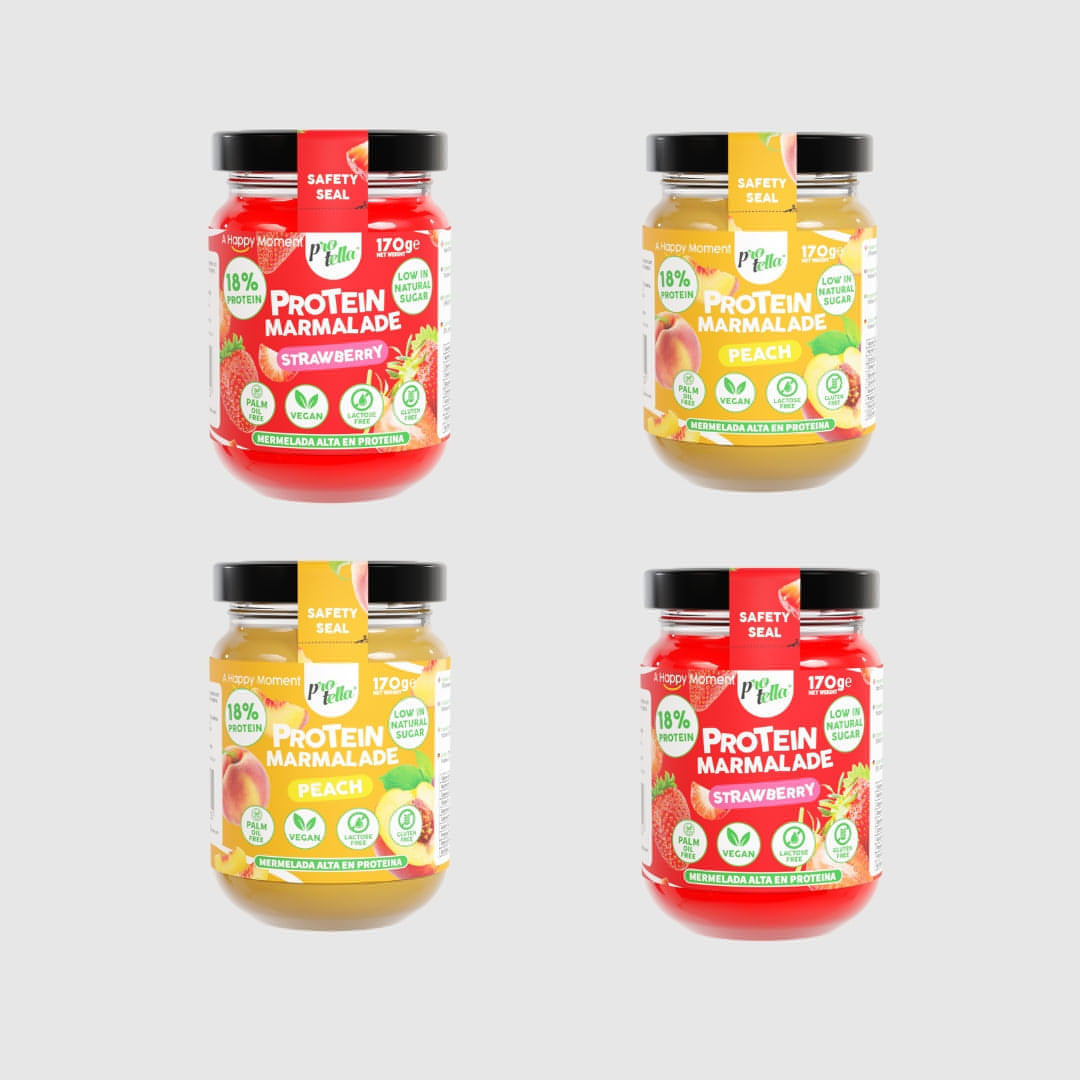 Marmalade Pack

€13,20

Regular price

€15,60
📦 BUY NOW AND RECEIVE IT IN 2-5 DAYS
The Marmalade Pack is a set of exquisite natural jams, perfectly balanced to delight your palate and at the same time take care of your health.
This pack includes: 2 strawberry flavored jams and 2 peach flavored jams.
Each of these jams is made with 72% fresh fruit, which provides an intense and natural flavor. These jams are low in natural sugars, ideal for those who want to watch their sugar intake without sacrificing flavor.
In addition, this pack stands out for its protein content, as each jam contains 18% protein. This makes them a great option for sports people or those looking to supplement their protein intake in a delicious way.
✅ With 72% fruit content, this type of jam is an excellent source of vitamins, minerals and dietary fiber that fruits provide.
✅ Protein will help you for tissue repair and growth, immune function and enzyme and hormone production.
✅ Being low in natural sugars, this jam is a healthier option than traditional jams.
✅ It does not contain gluten or lactose, this makes the jam suitable for people with gluten or lactose intolerance.
✅ 100% vegan. It is suitable for those who follow a vegan or vegetarian diet.
✅ Palm oil has been linked to deforestation and health problems such as increased cholesterol. By avoiding it, this jam becomes a greener and healthier option.
✅ Due to its protein and fiber content, this jam can help increase satiety, which can be helpful for weight control.
Información Nutricional
Cómo Disfrutarlas
Shipping in 2 to 5 days
Shipping takes between 2 to 5 days from when the order leaves our warehouse.
Real time monitoring
Once you make the purchase, we will send you an email with the information of your order and the tracking number.
Customer Support
Do you have any doubt? Write to us at online@protella.com and we will give you an answer in less than 24 hours.
Mermelada de frutas
Esta bastante conseguida. Tiene sabor a frutas y es dulzón a con el toque ácido de la fruta también. Buena textura. Lo malo que le veo es que sea un pote tan pequeño, casi de muestra. Por el precio que tiene, no merece mucho la pena. Aunque si está muy rica.