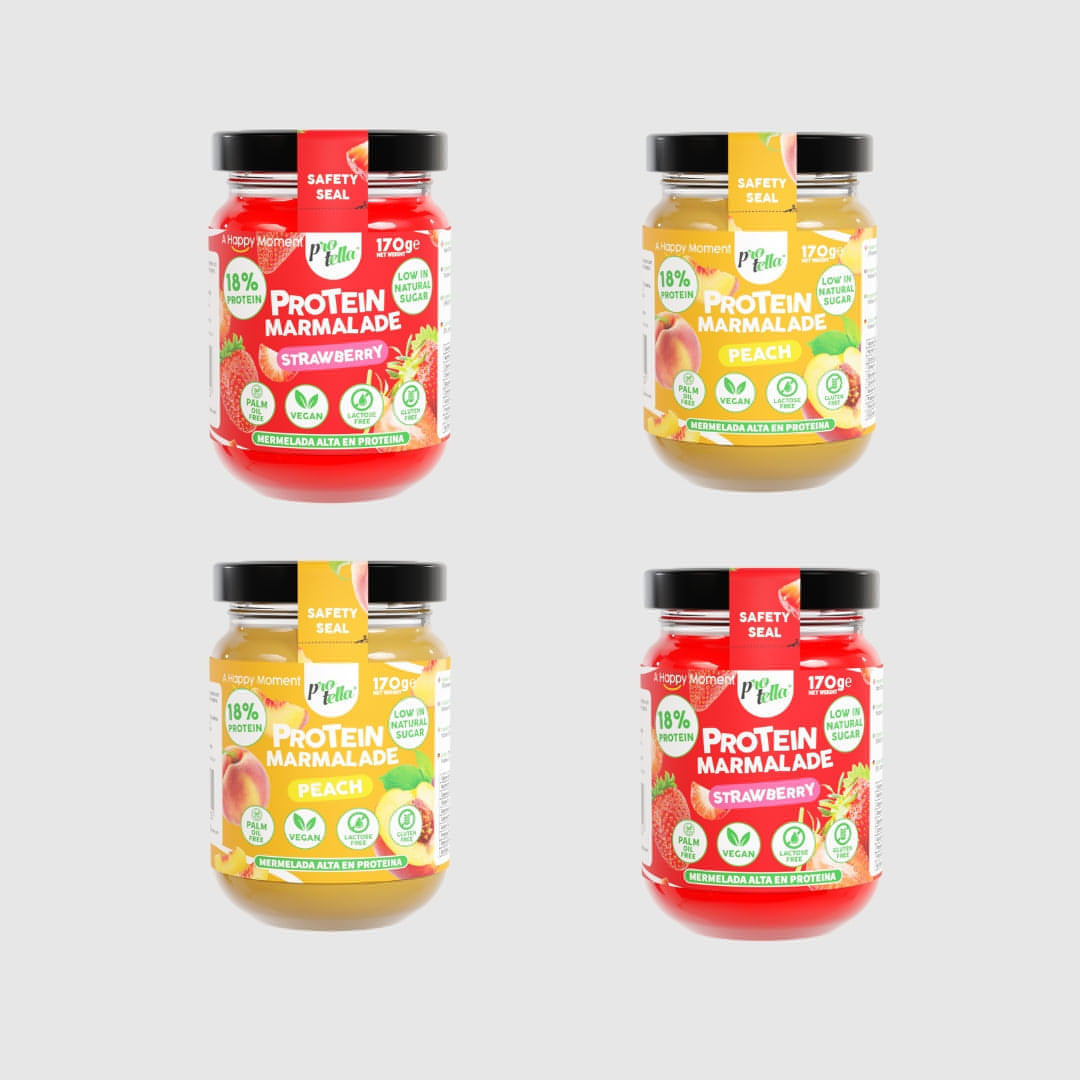 Protein bread 400gr
€13,20
Regular price
€15,60
Subscription • Save money
DESCRIPTION

NUTRITIONAL INFORMATION

INSTRUCTIONS FOR USE
Make the perfect match! Our sliced ​​bread protein is deliciously tender, very low carb and ideal for dinners, lunches, breakfasts or snacks light.
Contains many beneficial seeds for health such as yellow flax, sesame, sunflower... They have a high content of fatty acids and a good supply of nutrients.
Ingredients: Wheat protein, soy flour, water, flaxseeds, sunflower seeds, crushed soybeans, sesame seeds , yellow flax seeds, wholemeal spelt flour, apple fiber, wheat fiber, dehydrated wholemeal spelt sourdough, salt, extract of malted barley, spices, vinegar and sorbic acid (preservatives).
Allergens: Gluten, soy, lactose, sesame and nuts.
Storage: Store at room temperature and with a maximum of 60% relative humidity, preserving aromatic substances.
⚠️ Spread your favorite protein cream on the Protein Bread to experience a great bomb of flavor and satisfaction.
➕EXTRA USE: You can use it in savory recipes too!
Protein bread 400gr
€13,20
Regular price
€15,60
Descripción
Información nutricional
Cómo utilizarla
FAQ
Can I consume your products if I do not practice sports at a high level?
Of course, they are also much healthier sweets and compatible with a healthy lifestyle and can be a perfect substitute for the industrial bakery found in many supermarkets.
How do you sweeten your products if they do not contain added sugars?
We use maltitol, which is a carbohydrate that is produced from maltose, which is derived from natural starch (wheat, tapioca or corn). It is almost 90% as sweet as sugar but unlike this, it has a much lower caloric value and a lower glycemic index. Maltitol has approximately 2 kilocalories per gram, compared to 4 kilocalories per gram for sugar.
Do I have to store your products in the fridge?
No need to store them in the fridge, as long as you keep them at room temperature :)
SHIPMENT INFORMATION
Shipments in 24 / 72h
How long will it take to get home?
Our delivery takes between 24 to 72 hours from when the order leaves the warehouse.
Real time monitoring
Where is my order?
Once you make the purchase, we will send you an email with your order information and tracking number.
24h Customer service
Do you have a problem with your order?
Write us an email at online@protella.com and we will help you with everything you need.
Good product good quality